Status of OneNote compatibility Linux (wine/CrossOver)
While both wine and CrossOver have claimed support for Microsoft Office running on Linux, the reality is more mixed and depends on your definition of what is included in Office.
Yes, the core applications Microsoft Word, Excel and PowerPoint work. But in my interpretation, Microsoft OneNote is also definitely part of the Office suite. And support for OneNote is unfortunately still very limited. My experience with OneNote under Linux is as follows.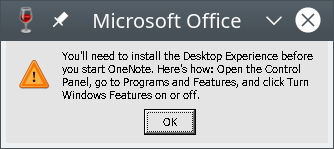 | | | |
| --- | --- | --- |
| Version | Status | Compatability |
| OneNote 2016 | Broken | It will install, but it will not run because it needs the "Desktop Experience" pack. |
| OneNote 2013 | Broken | It will install, but it will not run because it needs the "Desktop Experience" pack. |
| OneNote 2010 | Limited | It will install and run, but it will not allow you to use notebooks stored on SharePoint servers or on OneDrive. Collaboration is therefore limited and you can only use locally stored notebooks. |